The Open Space Initiative
More than 1000 alumni have already joined Wharton San Francisco's Open Space program. Find the community and co-working space you need.
Open Space in SF is open but has new COVID policies. Please Email the Front Desk to reserve space before arrival. All visitors also must Complete PennOpen pass before arriving on campus.
Coworking Space on Campus
Wharton provides the business knowledge and resources our students need to become successful — even after graduation.
With nearly 7,000 Wharton graduates in the Bay Area, our alumni entrepreneurial ecosystem is thriving. And we're always looking for new ways to support it.
Our Open Space pilot program provides free co-working space on campus for Penn alumni when space is available. University of Pennsylvania alumni of any degree-granting program are eligible to apply.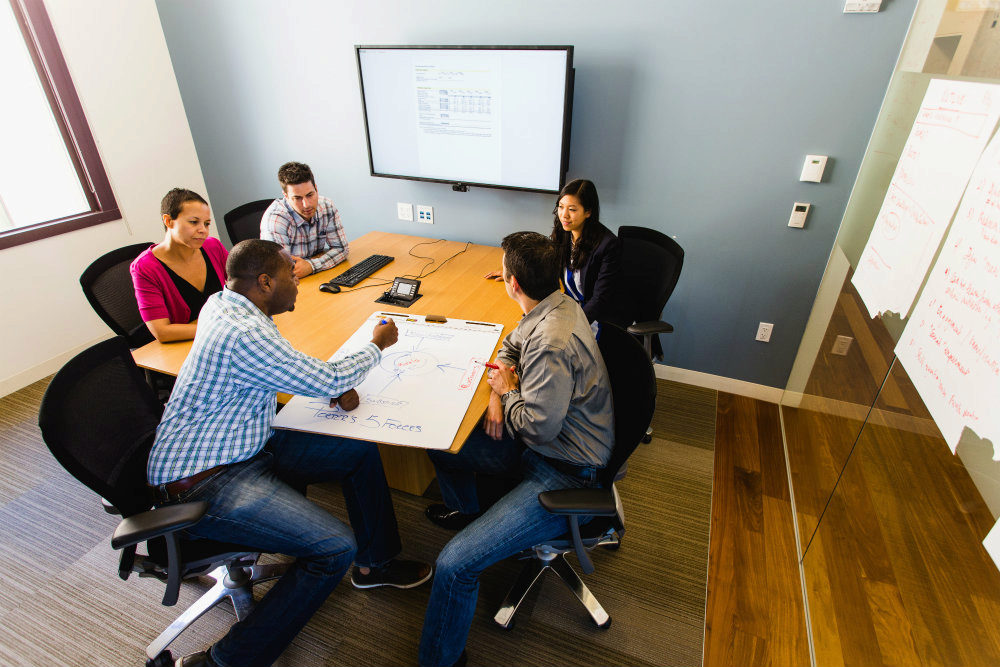 Hours
Current Open Space hours are 9 a.m. to 4 p.m. most Mondays through Thursdays. Please contact the Front Desk for availability and booking at wsf-frontdesk@wharton.upenn.edu.
Policies
We have instituted a two strikes policy. Each instance of failure to comply with any of the policies outlined below counts as a strike — two strikes and we will suspend your access to the reservation system. If you have been suspended and would like to reinstate your account, you will need to contact the Executive Director for Wharton San Francisco (alanchen@wharton.upenn.edu).
COVID Mandates
The University requires visitors to campus and to University-sponsored events and gatherings to be fully vaccinated and to comply with mask requirements. Masks must be worn at all times with the exception of eating or drinking in the dining room.
Before arriving on campus, visitors must complete a PennOpen Campus pre-screening on the day they visit. They must present their Green Pass upon checking in with the front desk.
The University requests that visitors not come physically to campus if they feel ill, have been exposed to a case of COVID-19, or if they are not fully vaccinated.
Wear your Lanyard
Wharton San Francisco and our landlord require all personnel to wear their Wharton lanyard at all times while on our floor – this includes after you've checked in and are sitting down.  They need to be worn, not just on the desk near you.  This provides security an easier and quicker way to visually check if folks are authorized to be on the property, both in person and via the video security system.  There have been thefts and robberies in Hills Plaza, as well as on our floor – please help us keep you and your belongings safe by allowing staff to quickly visually identify people who are authorized to be here.
Lateness, Disappearances, Overstays, and No-Shows
If you're going to be more than 30 minutes late to a meeting in a Group Study Room or you can't make it, email us at wsf-frontdesk@wharton.upenn.edu or call us at 415-267-6300 to let us know your ETA. If you are late or missing and we haven't heard from you, we will cancel your reservation for that day.  Similarly, if you leave early or disappear for several hours in the middle of the day without notice, we may assume you left and cancel your reservation for the rest of that day.
Open Space closes promptly at 4pm and all reservations end at that time.  We understand it may take a few minutes to gather your things and exit the floor, so we have a 15 minute grace period to allow for that.  All Open Space users and their guests must return their badges and exit the floor before 4:15pm.
Using Unreserved Space
If there's a problem with your reservation, or someone is the space you reserved, please don't just grab another empty room – this causes a cascade effect of people not being in the right place, and can delay students who are often breaking out during class for group work.
Unattended guests
You must be present for your reservation. The Open Space program is a benefit for Penn students and alumni – not their friends or family. You may be working with partners or team members who are not affiliated with Penn, but you must accompany and remain with them.  Unattended guests (e.g. you leave the facility while your guest is here) will result in a strike.
Food
We are currently unable to offer coffee and snack services. You are welcome to bring your own food and beverage, however, it must be consumed in the dining room. Eating is prohibited in all classrooms, conference rooms, group study rooms, auditoriums, and public spaces, although drinking with a straw under your mask is acceptable. 
On days when there is a group in the space that has catering at any level (which could include anything from coffee/tea/snack service, to full meal service in the dining room), we ask that you not take food or beverage from those marked areas. It may cause the caterer to run out of food, due to unanticipated increased headcount.
FAQs
I am an alum of a certificate-granting or Executive Education program – is the Open Space Initiative open to me?
Due to the high demand for space, we're currently only able to extend this pilot to alumni who have received a degree from our undergraduate, MBA, or PhD program.
I need more than one room or have more than six people. Can I reserve more than one room?
No. We cannot accommodate groups larger than six people. We have limited reservations to one room per person per day to ensure that the space is fairly distributed.
I have a larger group that is interested in using a larger conference room, classroom, or the dining room/event space. How can I put in a request for this?
We are not currently booking third-party events. Demand for internal events from University departments is currently too high for us to accommodate outside groups.
Can I use a landline? What about a fax machine?
Our breakout rooms are not equipped with landlines, nor do we have a fax machine for public usage.
Can I print something?
Due to the volume of requests, we're unable to accommodate printing and scanning for Open Space participants. There is a UPS store two blocks away at 182 Howard that offers printing and scanning services.
My co-founder or group contains individuals who are not Wharton affiliated – may I bring them with me for my meetings/reservations?
Of course.  Please include the names of your venture team members when you complete the Open Space registration form. We simply ask that you all sign in at the front desk upon entry each day.  To keep things fair for all participants, we do require a Penn alumni to be present at all times while a non-Penn guest is on the floor.
Can I extend this benefit to friends and family by reserving on their behalf?
Unfortunately we don't have enough space or resources to open the program up this broadly.  In order to make as much space for alumni and students available as possible, you (the alum) must be present for the entire duration of any booking.
Can I have mail and/or packages delivered to the campus address?  Can I send mail from campus?

No.  We are unable to accept mail or packages for groups, startups, or individuals using the space. If we receive mail or packages addressed to pilot users or startups, we will unfortunately have to refuse delivery and send the parcel back with the carrier.  We also are unable to send or hold mail for sending – there are two Post Offices nearby which we can direct you to.
I was a recent student at Wharton San Francisco – what changes for me when I transition to alumni status?
You'll be required to  reserve space, and there are days when we won't have space that we can't allow you on campus.  Academic programs and students always get priority for our limited space.