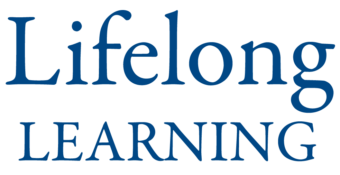 The Wharton Scale School workshop series in San Francisco guides entrepreneurs making the transition from a successful startup to a large enterprise. Hear from experts who share solutions to critical challenges faced by rapidly growing companies.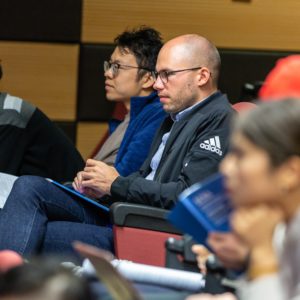 What You'll Learn
Scale School is your guide as you move beyond initial product-market fit to the creation of a large enterprise of tremendous value, giving you the opportunity to:
 Gain insights from cutting-edge Wharton research as well as from experienced leaders who have effectively scaled their organizations.
Apply key principles in small group working sessions.
 Ask questions of the experts about the challenges you face in scaling your own organization.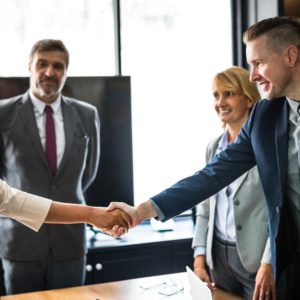 Gain the Business Skills to Scale
Ideas are essential to innovation, but it takes real business skills to transform a great idea into a sustainable business. That's why Penn Wharton Entrepreneurship launched this initiative in partnership with Wharton Lifelong Learning in March 2016.
Hosted at Wharton San Francisco, these workshops feature expert Wharton faculty, alumni entrepreneurs, and Bay Area industry executives who share their insights about how to address common challenges like finding new customers, growing your workforce, managing supply chains, and navigating complex regulations as you scale your business.
Upcoming Scale School Events
Perspectives on Investing in Scale
Most enterprises need significant investment to scale. What strategic considerations should ventures give to this stage of financing? How can enterprises best demonstrate their readiness and potential for growth to not only attract the desired amount of funding but also the right kind of investor relationships? In this session, Professor David Hsu and panelists, Eurie Kim, WG'09, General Partner at Forerunner Ventures and Ravi Viswanathan, ENG'90, WG'98, Founder and Managing Partner at NewView Capital will discuss the criteria and thinking behind decisions to invest in scale as well as how their perspectives may or may not evolve in the near or distant future.
Who Should Attend?
Founders and leaders who are growing their firms and business units 
and looking to grow them in a scalable manner.
DATE: Wednesday, April 28, 2021
TIME: 5:30pm-6:30pm ET/ 2:30pm-3:30pm PT
VENUE: Virtual
Making Bold Decisions in Challenging Times
While many enterprises have been struggling to stay afloat through the pandemic, some leaders have made bold strategic decisions to scale during these profoundly uncertain times. How should founders weigh the risks, particularly when even more factors are out of their control? In this session, Professor Mike Useem and panelists Amy Errett, WG'88, CEO and Co-Founder at Madison Reed and Partner at True Ventures, Chad Robins, WG'02, CEO and Co-Founder at Adaptive Biotechnologies Corporation, and Davis Smith, G'11, WG'11, CEO and Founder at Cotopaxi will discuss the challenges business leaders and their firms have faced when deciding to scale as well as the opportunities they continue to eye for the future.
Date: February 3, 2021
Moderator: Mike Useem, William and Jacalyn Egan Professor of Management; Director, Center for Leadership and Change Management; Editor, Wharton Leadership Digest
Panelists: Amy Errett (WG'88), CEO and Co-Founder, Madison Reed; Partner, True Venture; Chad Robins (WG'02), CEO and Co-Founder, Adaptive Biotechnologies Corporation; Davis Smith (WG'11), CEO & Founder, Cotopaxi
Balancing Growth and Profitability Through Uncertainty
How should founders and managers balance growth and profitability? When is the right time to prioritize growth and how is that answer different in these uncertain times? In this session, we will discuss the key challenges firms face when trying to scale: balancing the need to grow with long term profitability. We will explore this question from the point of view of the operation manager as well as the investor.
Date: September 9, 2020
Moderator:
Gad Allon, Jeffrey A. Keswin Professor and Professor of Operations, Information and Decisions; Director, Management and Technology Program at the University of Pennsylvania.
Panelists:
Joseph Ansanelli (W'92), CEO, Gladly & Partner, Greylock
Cate Khan (WG'05), Co-Founder & Chief Strategy Officer, Verishop
Ted Schlein (C'86, PAR'20), General Partner, Kleiner Perkins
Female Founders and Funders: Gender Diversity at Scale
All are welcome to join this passionate conversation about gender diversity in the workplace. The session will start with an overview of the latest research on gender and scaling being done at Wharton, including the impact of gender diversity on startup performance, and the ways in which female founders and funders face unique challenges and opportunities in growing startups. That discussion will be followed by a panel of founders and venture capitalists discussing how startups can address the gender gap in Silicon Valley.
Date:: January 30, 2020
Moderator:
Ethan Mollick, Associate Professor of Management, Academic Director, Wharton Interactive, The Wharton School
Panelists:
Iris Choi (WG'04), Partner, Floodgate
Lulu Ge (WG'19), Founder & CEO, Elix
Na'ama Moran, Co-Founder & CEO, Cheetah Technologies
Scaling an Omnichannel Fulfillment Strategy
Omnichannel retailers face hard choices when they decide how to improve the way they serve their customers, using levers such as improving delivery and return policies, providing access to detailed product information and reviews, and offering lower prices. Because it is difficult for firms to excel on all dimensions simultaneously, it is crucial for firms to have a profound understanding of the trade-offs consumers make when evaluating their offering. If managers have biased perceptions of consumer trade-offs, these can represent serious obstacles to designing a winning omnichannel proposition. We will discuss the degree and nature of such managerial biases and propose a remedy to them.
Date: May 21, 2019
Moderator:
Santiago Gallino, Assistant Professor of Operations, Information and Decisions, The Wharton School
Panelists:
Emily Fan (W'95, WG'02), VP Supply Chain & Operations, Madison Reed
Miriam Bloom Williams (C'04, WG'15), Co-Founder, Superkin (formerly Bloomwell)
SCALING THROUGH MACHINE INTELLIGENCE AND DATA SCIENCE
As a company's customer and employee count grow, scaling poses new challenges as many of the activities that worked well in a startup stage are no longer practical. For example, close and frequent interactions with customers by founders or customer success teams are ideal during an early stage but become expensive as businesses grow. Taking the business to the next level requires taking many of these successful approaches and automating them through internal or external tools. This session will focus on how to scale operations, customer acquisition, servicing, and retention through machine intelligence. We will discuss some of the tools available to businesses and whether to build or buy.
Date: March 27, 2019
Moderator:
Kartik Hosanagar, John C. Hower Professor of Technology & Digital Business, Professor of Management at the Wharton School
Panelists:
Stacey Epstein, CEO, Zinc
Ashu Garg, General Partner, Foundation Capital
Gaurav Mendiriatta (GEN'05), CEO, SocioSquares
LEADERSHIP AND THE IMPORTANCE OF COMPANY CULTURE
Intensifying demands for high performance are pressing new and established firms to become more quick-acting and fast-growing.  Companies are finding that such initiatives demand energetic leadership and a compelling mindset, and this has become all the more critical in an era of change and uncertainty.  Swift scaling depends upon a capacity to think strategically, communicate persuasively, and decide decisively, and drawing on their own tangible experiences, panel members point to the essentials of leadership and culture for ramping-up and sustaining growth.
Date: December 6, 2018
Moderator:
Mike Useem, Professor of Management, Director, Center for Leadership and Change Mangement, The Wharton School
Panelists:
Joseph Ansanelli, W'92, CEO of Glady; Partner at Greylock Partners
Jane Fisher, WG'17 Co-Founder, Harper Wilde
GROWTH THROUGH ACQUISTIONS
In the competitive environment of technology, speed to market is often a key to success. But creating every capability internally often takes the time and skills many startups fail to have. In this session, we examine when to look outside the firm for missing pieces, how to find a company with the right fit, and how to price the deal in a way that retains value.
Date: January 22, 2018
Moderator:
David Wessels, ENG'92, W'92 Adjunct Professor of Finance, The Wharton School
Panelists:
Vicente de Baca, WG'09 Partner, v2 Ventures
Anton Hanebrink, WG'04 Chief Corporate Strategy & Development Officer, Intuit
Jamie Kim, WG'14 Corporate Development & Strategy, E la Carte Inc.
SCALING VENTURES: LINKING STRATEGY AND EXECUTION
How should a firm build its systems, people, and process to support its effort to scale? Our panelists discuss the key challenges firms face when trying to scale: moving from tactical opportunistic thinking to a strategic one, from local to global, from short-term to long-term thinking, and the relationship between people and processes.
Date: October 9, 2017
Moderator:
Gad Allon, Jeffrey A. Keswin Professor of Operations, Information and Decisions; Director of the Jerome Fisher Program in Management and Technology
Panelists: 
Steve Polsky, ENG'86, W'86, Founder and CEO – Juvo
Ravi Viswanathan, ENG'90, WG'98, General Partner – NEA
Joey Zwillinger, WG'10, Co-Founder and Co-CEO – Allbirds
BEYOND THE CORE: HOW TO BECOME A MULTI-PRODUCT COMPANY
How do you think through multi-product families? This well-respected panel discusses product innovation, product footprints, and product scaling.
Date: June 8, 2017
Moderator: Professor Laura Huang
Panelists: 
Amy Errett, WG'88, Co-founder and CEO, Madison Reed
Ania Smith, WG'02, Head of Business Operations, Airbnb
Dan Springer, CEO, DocuSign
SCALING YOUR BUSINESS WITH ANALYTICS
How can companies use the best data practices at various stages of growth? This panel of successful entrepreneurs shares their answers from implementing a CRM system to how to hire for analytics roles and the importance of experimentation during growth.
Date: April 24, 2017
Moderator: Eric Bradlow, W'88 Wharton Marketing Professor and WCAI Faculty Director
Panelists:
• Jessica Lachs, WG'11 Head of Business Operations and Analytics, DoorDash
• Ethan Prater, WG'04, Chairman, Digital Health Track; Alchemist Accelerator
• Krista Seiden, Analytics Advocate, Google
ALTERNATIVES TO EQUITY FINANCING
Though equity may be a primary source of capital for your business, what are alternatives that can be approached confidently?
Date: December 7, 2016
Moderator: Jennifer Freil Goldstein, Managing Director, Life Sciences – Silicon Valley Bank
Panelists: 
Jason Mok, Managing Director and Sector Head, Consumer Internet – Silicon Valley Bank
Chanel Li, VP Business Operations, Rocksbox
SCALING TALENT
How can a rapidly growing organization best attract, retain, and develop its employees?
Date: June 1, 2016
Moderator: Cade Massey, Professor of Operations, Information, and Decisions – The Wharton School
Panelists: 
Evan Wittenberg (WG'02), Senior Vice President, People – Box
Ron Storn, Vice President, People – Lyft
SCALING THE SALES PROCESS
Discover how to make the transition to a sustainable, scalable sales process for the rapidly growing start-up.
Date: March 23, 2016
Moderator: Ravi Mohan, Managing Director – Shasta Ventures
Panelists: 
Ravi Kumaraswami, Chief Revenue Officer – Lithium
Evan Liang, Co-Founder & CEO, LeanData
Moti Rafalin, Former CEO – WatchDox
Still Have Questions?
We're happy to help.