Business Radio on Sirius XM
at Wharton San Francisco 
Broadcasting live from Wharton's San Francisco campus on Sirius XM's Business Radio, Bay Area Ventures will keep you up to date on the pulse on entrepreneurship in the Bay Area and Launch Pad will give you insights into the minds of the best in business.
Launch Pad
Have a great idea for a new product? Starting a business for the first time? Learn the ins and outs of raising the money you need and making the connections that count.
Vice Dean of Entrepreneurship and Innovation Prof. Karl Ulrich and co-host Rob Coneybeer, both successful entrepreneurs, share their secrets and interview the best in the business.

Bay Area Ventures
Get clarity on what you need to know in order to stay ahead, whether you're on the entrepreneurial or investor side of the equation.
Director of Penn Wharton Entrepreneurship Irina Yuen and co-hosts Doug Collom, Donald Landwirth, and Chris Tsakalakis, get insights from entrepreneurs, financial experts, and academic leaders in the tech and biotech industry.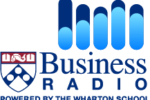 Business Radio Powered by the Wharton School, broadcasting business and management knowledge for your career success. Tune in on Sirus XM 111.