Wharton SF respects the rights of every participant, staff, and faculty and fosters a safe, professional, and effective learning environment, free from discrimination or harassment.
Neither the University of Pennsylvania nor the Wharton School will tolerate discrimination or harassment based on race, color, sex, sexual orientation, gender identity, religion, creed, national or ethnic origin, citizenship status, age, disability, veteran status, or any other legally protected status. The University strongly encourages those who have experienced, witnessed, or become aware of such conduct, to report it to an appropriate resource. Discrimination or harassment that occurs within a Wharton SF program should be reported to a program manager, director, or instructor.
Participants of our programs are expected to adhere to the highest standards of honesty, integrity, and overall ethical conduct, to foster an environment of inclusion, honor, and trust, and to engender respect for ethical standards. Wharton SF participants are also expected to comply with the University of Pennsylvania policies against harassment and discrimination .
Violation of this Code of Conduct may result in removal from any Wharton SF program, now and in the future.
Thank you in advance for your cooperation and adherence to this policy.
Diversity and Inclusion at Wharton SF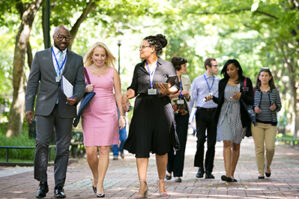 Wharton SF seeks to deliver open, inclusive, and accessible means for leadership development and advanced management practice. Our mission is to provide timely, relevant business education to to students and participants of our programs. An essential element in realizing this mission is our commitment to promoting diversity, equality, and inclusion in our educational programming and through our employment practices. We seek to accomplish this by reflecting on how this ideal is currently realized, and how actualizing this ideal may be strengthened going forward in the future.